Wayne I. Yamahata, MD
95 Scripps Drive
Sacramento, CA 95825
Phone: (916) 929-1833
Monday–Friday: 9 a.m.–5 p.m.

Wayne I. Yamahata, MD
8723 Sierra College Blvd
Granite Bay, CA 95746
Phone: (916) 773-5559
Monday–Friday: 9 a.m.–5 p.m.

Tummy Tuck
Many people, especially moms who have had one or more pregnancies, are unhappy with the way their abdominal area looks. Pregnancy and weight changes often cause the tummy to bulge and the skin to become stretched out and wrinkled. A top board-certified plastic surgeon, Dr. Wayne Yamahata understands that confidence and satisfaction with life are often influenced by the way you feel about your body. He performs abdominoplasty, often called a tummy tuck, to help people from Sacramento, Roseville, and Granite Bay, CA, have an abdominal area that looks fit and firm once again.
Tummy Tuck

Before & After Photos
WARNING:
This feature contains nudity. Please click OK to confirm you are at least 18 years of age and are not offended by such material.
What does a tummy tuck do?
After pregnancy or significant weight loss, there is only so much you can do to improve your midsection on your own. Women and men visit Dr. Yamahata in Granite Bay and Sacramento for tummy tuck surgery from Folsom and El Dorado Hills, CA, and around the area to gain one or more of the following improvements:
Tightening loose, wrinkled skin
Removing stretch marks that are above the belly button
Flattening a tummy bulge
Sculpting excess fat deposits
Rejoining separated abdominal muscles
Reshaping the belly button
Improving the appearance of a C-section scar
How much does abdominoplasty cost in Sacramento?
The cost for abdominoplasty ranges from $12,900 to $21,500, depending on the extent and length of the surgery. Prices increase if other procedures are being performed at the same time. You will be provided with a personalized quote as part of your consultation with Dr. Yamahata. Because this is an especially invasive and transformative surgery, it is important to choose your plastic surgeon based on qualifications and experience, not price. Dr. Yamahata offers financing options to help patients move forward with the surgery without sacrificing their safety or results.
Who is an ideal candidate?
Best results are gained by those who are at a healthy weight and physically fit, who do not smoke or are willing to quit. During your consultation, Dr. Yamahata will help you thoroughly understand the improvements you can expect to gain from surgery.
Your Consultation
Tummy tuck surgery is one of the most popular procedures Dr. Yamahata performs because the results can be both beautiful and dramatic. Patients whose confidence in their bodies is shaken, either after pregnancy or significant weight loss, are usually proud to show off their new contours. Dr. Yamahata understands the emotions that can accompany the surgical process. That's why he takes the time to listen to you and answer all your questions during the consultation until you feel comfortable, confident, and excited to move forward.
Tummy Tuck vs. Liposuction
Both abdominoplasty and liposuction are surgical body contouring procedures that can be used to improve the appearance of the abdominal area; however, they do have their differences.
Tummy Tuck
Removes excess lax skin.
Repairs stretched and separated abdominal muscles (diastasis recti).
Leaves a scar low on the abdomen that runs between the hip bones.
Liposuction
Removes isolated pockets of fat.
Does not tighten the skin.
Leaves tiny scars near the targeted fat, often hidden in natural creases.
Dr. Yamahata frequently performs these procedures together to rejuvenate the abdominal area after pregnancy or significant weight loss.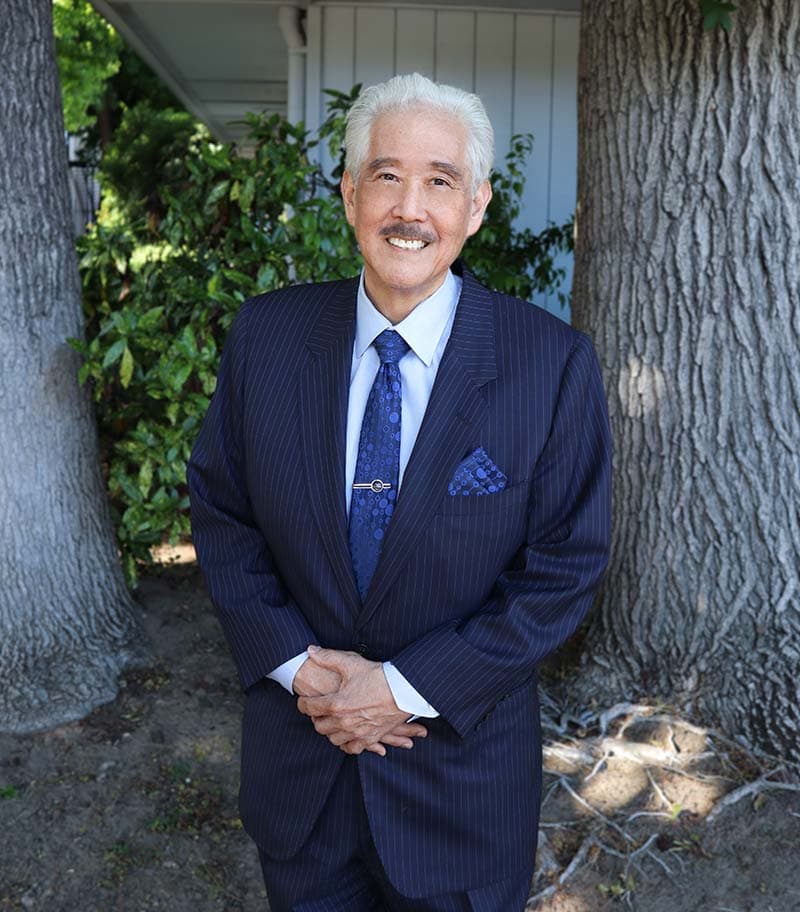 Meet Dr. Yamahata
A board-certified plastic surgeon, Dr. Yamahata has the skill and experience necessary to provide attractive results that look natural.
Meet The Doctor
Can abdominoplasty be combined with other procedures?
Yes. Women often have breast augmentation, with or without a breast lift, and liposuction at the same time as abdominoplasty. This is a fairly common practice that's called a Mommy Makeover; it can take care of your biggest concerns with just a single surgery and recovery period. Combination procedures are also popular among both men and women who have lost a massive amount of weight and want to remove excess skin from several areas of their bodies.
"A great experience by an experienced plastic surgeon. He doesn't talk much but will answer any question or concern you have. Highly recommended!! Always made me feel comfortable. The staff is beyond amazing too!! I love my new body!!"*
Tummy Tucks for Men
The percentage of men getting tummy tucks is steadily increasing. Dr. Yamahata is seeing more men from throughout the Sacramento Valley area come in for this procedure after losing a lot of weight.
Preparing for Tummy Tuck Surgery
It's important before any surgical procedure to discontinue the use of certain medications that increase the risk of bleeding. Dr. Yamahata provides patients with a list specifying those medications, as well as other preoperative instructions. It's also important that smokers quit smoking several weeks prior to surgery.
About Tummy Tuck Surgery
Dr. Yamahata usually performs tummy tuck surgery using general anesthesia as an outpatient procedure in his AAAA-certified surgery center. If you have multiple procedures at once, he may perform your surgery in a local hospital for optimal safety and comfort.
The complete tummy tuck involves an incision that runs from hip to hip, low enough to be concealed with underwear or a swimsuit. There is usually a second incision that circles the belly button. The abdominal muscles are tightened, and excess skin and fat deposits are removed. Drains are inserted to prevent the build-up of fluid for approximately the first week.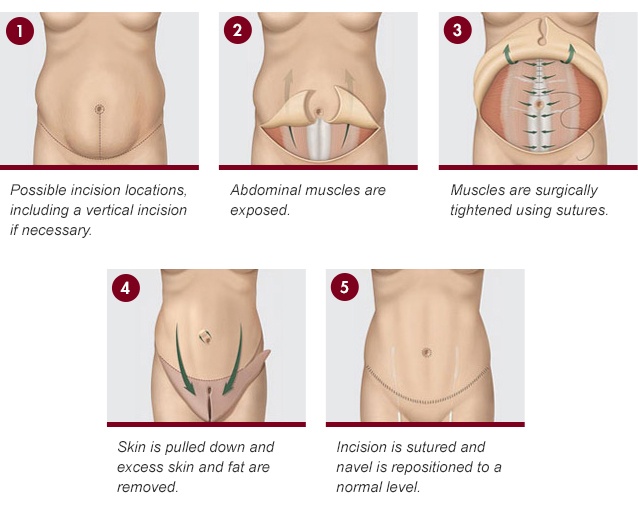 Mini Tummy Tuck
A mini tummy tuck is a less-invasive tummy tuck procedure that enhances the abdominal area below the belly button. It doesn't include tightening or repair of the abdominal muscles or changes to the tissues above the belly button. This variation involves a single shorter incision in the bikini area and a faster recovery period than the complete variation.
Do I need a full or a mini tummy tuck?
Most patients are better candidates for the traditional full tummy tuck. Dr. Yamahata will explain the anticipated changes from each operation and help you select the best option to achieve your goals. For a comparison, review this blog post.
Mini Tummy Tuck Candidates
Want to tighten mild to moderate skin laxity below the belly button
Have good skin elasticity
Are happy with their belly button size and shape
Do not have diastasis recti (abdominal muscle separation)
Because each body is unique, Dr. Yamahata customizes each tummy tuck to provide the most flattering outcome for the individual.
Tummy Tuck Recovery
Most patients are back at work after 1 to 2 weeks if they have office jobs. However, recovery following an abdominoplasty varies from patient to patient and with the specifics of the surgery. Schedule time off from work conservatively (plan to take more time off than you may need), depending on the type of job you have. It's best to gradually ease back into your normal daily activities over the course of a few weeks after the initial recovery period.
Recovery Timeline
While experiences vary, recovery typically follows this general timeline:
Day of surgery: Return home. Begin slow, gentle walking multiple times a day.
Days 5 to 7: Ready to stop taking pain medication and muscle relaxants. Drains removed.
1 to 2 weeks: Standing upright is easier.
3 to 6 weeks: Stop wearing the compression garment.
2+ months: Resume strenuous exercise and activities.
3 to 5 months: Begin seeing improved contours as swelling fades.
9 to 12 months: Scar flattens and fades. Final results achieved.
How painful is a tummy tuck after surgery?
While patients usually experience tightness after surgery, pain is usually manageable. This is because Dr. Yamahata injects a long-acting, non-narcotic local anesthetic called EXPAREL® directly into the abdominal tissue, fascia, and muscles before completing the surgery. EXPAREL won't make the area totally numb, but it will substantially reduce discomfort and the need for pain pills.
What is the fastest way to recover from a tummy tuck?
You can help speed up your recovery by closely following Dr. Yamahata's detailed set of post-operative instructions. Be sure to:
Wear your compression garment around your abdomen for the first few weeks.
Get up and walk around starting the day of your surgery (it may be difficult to stand completely upright for the first week) to encourage circulation in your legs.
Keep yourself hydrated.
Make sure to keep your incisions dry until released to shower.
Avoid foods and drugs that thin the blood.
Come in for your regular follow-up visits.
Avoid strenuous activity as directed.
Dr. Yamahata and/or a staff member will personally check in with you after your surgery and address any concerns if necessary.
How long do tummy tuck results last?
A tummy tuck provides excellent results that last for years as long as you maintain a stable weight. Gaining a few pounds won't change the outcome, but if you add 20% or more to your weight, it's likely that your abdominal area will lose the taut appearance that resulted from surgery. That's one reason Dr. Yamahata advises women to wait until they are finished having children before having this procedure.
Tummy Tuck FAQ
What's the best alternative to tummy tuck surgery?
Patients with lax abdominal skin and separated abdominal muscles will need a tummy tuck; there is no alternative (learn more in this blog post). Patients whose concerns are mainly due to abdominal fat may attain their desired improvements from liposuction or CoolSculpting®. Keep in mind: These procedures do not tighten loose skin or abdominal muscles.
Will a tummy tuck make my belly button look weird?
The hallmark of a good tummy tuck is a beautiful belly button. Dr. Yamahata understands the aesthetics of its placement and shape and takes special care to create natural-looking results with each tummy tuck. Read more in this blog post.
Will a tummy tuck help me lose weight?
A tummy tuck is not weight loss surgery. Dr. Yamahata advises patients they should be at or near their target weight before getting a tummy tuck, which is designed to remove excess abdominal skin and tighten weak or separated stomach muscles. Patients who are in good shape also tend to have a smoother recovery; maintaining good exercise habits after surgery ensures long-lasting results.
Will a tummy tuck get rid of "love handles?"
Even after losing abdominal fat, many people still have excess fat and/or skin on the flanks, or "love handles." Liposuction may be a better solution to remove localized pockets of fat, possibly along with a tummy tuck. Dr. Yamahata frequently combines these 2 procedures.
Do scars from a tummy tuck go away?
Although tummy tuck scars will not completely go away, there's a lot that can be done to minimize their impact on your appearance. Dr. Yamahata takes great care to hide incisions low on the abdomen so the scars are concealed by underwear or swimwear. Although the type of scarring in an individual patient is not always predictable, Dr. Yamahata uses advanced surgical techniques and meticulous closure methods to ensure the scars are as fine as possible. He and his team provide each patient with aftercare instructions to help scars heal and fade rapidly.
Do you have to be a certain weight to get an abdominoplasty?
If you need to lose weight, it's best to do it before your surgery to make the most of your results. For safety reasons, Dr. Yamahata advises patients to be at or close to a healthy, maintainable weight before the surgery.
How many dress sizes do you lose on average after this procedure?
While patients typically don't see a significant drop on the scale, most lose 2 to 3 dress/pant sizes after surgery and recovery.
Is a tummy tuck better than liposuction?
If you have lax skin on your stomach and stretched, bulging abdominal muscles, you will need a tummy tuck to correct your concerns. If your belly bulge is due to excess fat only, you may benefit from liposuction on its own.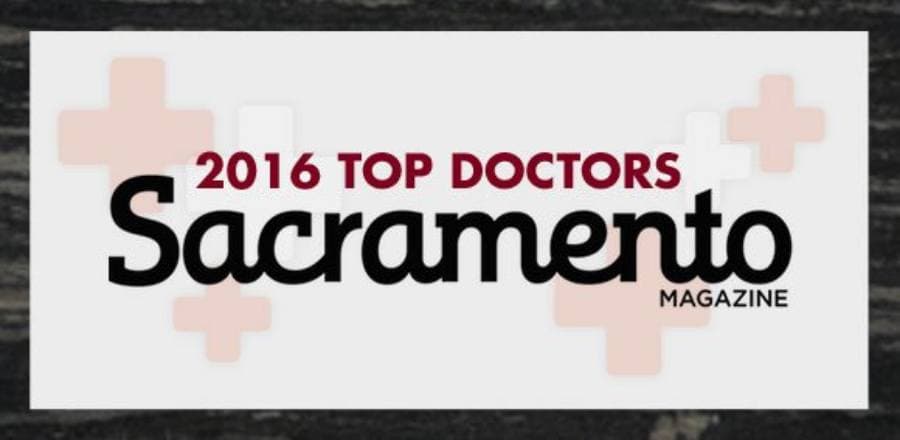 Top Doctor Award Winner
Sacramento Magazine's annual list honors medical professionals from the Sacramento area in their respective fields — and Dr. Yamahata is among them.
Request a Consultation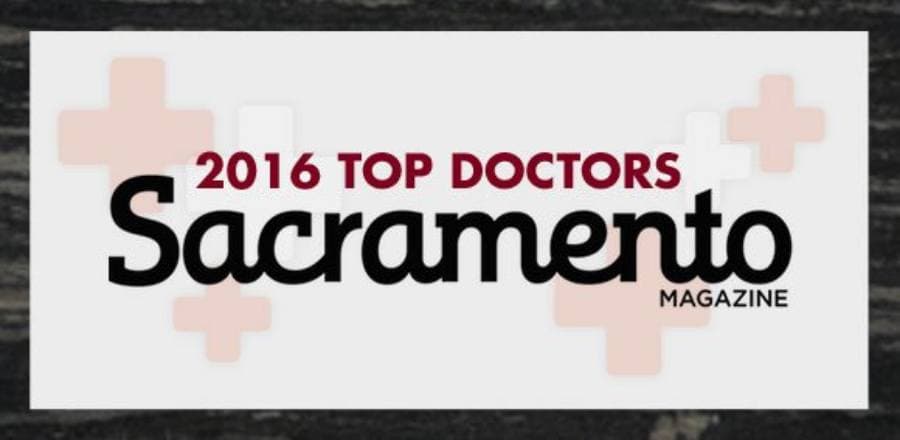 Your Next Step
To find out about how body sculpting surgery can improve your look, request a consultation with Dr. Yamahata or call his office in Sacramento at (916) 929-1833 or Granite Bay at (916) 773-5559.